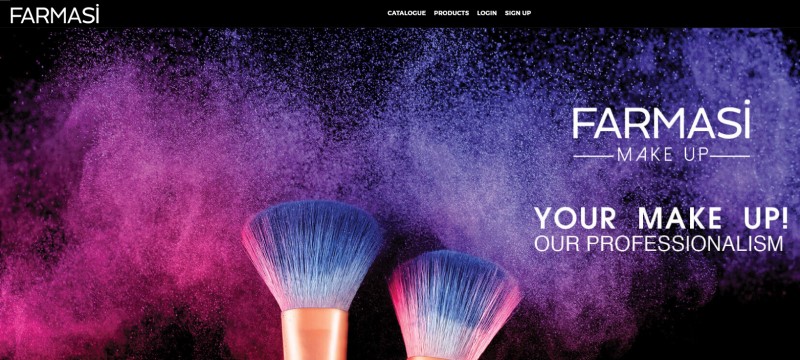 If you want the truth about the Farmasi MLM business opportunity, you've found the right place.  I'm going to give you the straight facts so you can determine if Farmasi is the right choice for you.
What is Farmasi
Farmasi is a Turkish beauty and cosmetic MLM company.  Their products are sold through "beauty influencers" and it appears to be experiencing phenomenal growth.
Many buyers choose their products because the products are tested with cruelty-free methods.  They have distributors worldwide.
They started selling in the US in 2010, though first established in Turkey many years earlier
They have a BBB rating of F (yes, F as in Frank) The reason for that ranking is because they never responded to 7 complaints filed against them
Despite many complaints, can't find any real lawsuits against them
What are Farmasi's products
They have over 400 products available to the US.  These include:
Make Up
Personal Care
Fragrances
Dr. C Tuna brand-Foot Care, Hair Care, Skin Care, Toothpaste
Mr Wipes brand-Cleaning products-Bathroom, Kitchen, Laundry
There's nothing really special about the products except that they are not animal tested.
The good thing is that they are relatively inexpensive, for being sold through direct selling, or an MLM company.  Usually products sold through MLM are over-priced.
Farmasi can  be sold cheaper because they manufacture all their products themselves.  This is a huge advantage over other companies, no middle man.
What is the opportunity
The opportunity with Farmasi is to become a "Beauty Influencer" and sell their products and recruit others to do the same.  Beauty Influencer is what they call their marketing partners, or distributors who have the opportunity to develop a business, selling Farmasi products.
It's a MLM company so you don't really have your own company, you build a business within a business, where you can decide how much work you do.
As a beauty influencer, you are able to purchase Farmasi products at a 50% discount and then you can resell them at the retail price, for a nice profit.
The 50% commission is very attractive, but the drawback is that you must first purchase product kits and then resell them on your own.
As with any MLM, the problem is being able to maintain a consistent customer base that will continue to buy the products from you.
What is the compensation plan
The compensation plan is complicated, which in my eyes, is a warning sign about the company.  I think if the company want's to be fair, the compensation plan should be easy to understand.
Check out the complete compensation plan here.
In order to qualify for any compensation, you must be active, which means reaching 125 PV (Personal Volume) points each month.  That is $125 per month in product.  That's a lot of product.
The first way to make money is through retail sales of the products. The $125 worth of product should sell for $250, since an influencer buys the products at 50% discount.
The next way to earn money is through your personal bonus.  This takes into consideration your sales volume and the sales volume of those people you have recruited.
The payout for GV (Group Volume) is as shown: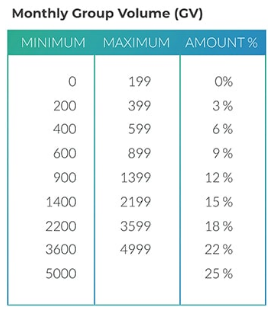 Here's where they offer something different that I haven't seen in MLM companies.  They call it a "pass it up" bonus.  For instance, if your individual sales volume qualifies for a 9% bonus, but someone on your downline only qualifies for a 3% bonus, you get the 6% difference bonus.
I guess this is good in the sense that the upline person will not be held back by the lack of sales from their downline.
The next bonus they offer is the leadership bonus. If you and someone in your downline both qualify for the 25% bonus level, you won't earn a personal bonus from them, but you will get a leadership bonus. Please refer to the compensation plan for complete details.
The leadership bonus is paid to 6 levels.  Keep in mind, it's been said to be wary of MLM companies that pay downlines of more than 5 levels.
However, if you take a look at the compensation plan, it appears to be a very generous plan if you can make it up to the higher ranks, or "Boss" level.
What is the cost to join
It's relatively inexpensive to join, at only $19.95.  For this price, you get a starter kit with samples, color booklet, catalogs, personal link for purchasing, and some training information.
PROs & CONs
Pros:
Inexpensive to start
Inexpensive products
Well established company
Cons:
Monthly purchase required to remain active
Complicated compensation plan
Lots of customer service complaints
Poor BBB rating
Final Thoughts
I would not suggest becoming involved with this company because it has all the bad parts of an MLM company.  The monthly purchase amount is high, the compensation plan is hard to understand, and there are several BBB complaints about dealing with the company.
If you're looking into this company because you've tried and like the products, then you might want to try it, because it doesn't cost much to give it try.  However, knowing and liking the products and being able to consistently sell the products is a different story.
Selling products through direct sales can be lucrative if you're friendly and enjoy talking to people, it is also difficult if you don't have a large network of friends and family.
A BETTER OPPORTUNITY
There is a way to make extra money that is less intense and probably won't have you losing friends.  I can show you how to have a money making website like this and be able to quit your day job.  It's free to join and no credit card is needed. Check out "HOW TO QUIT MY DAY JOB." You'll get a website, training and 24/7 support to ensure success!