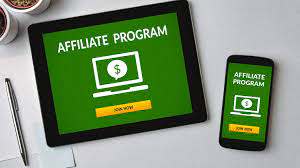 Once you've decided that you want to try this "Affiliate Marketing" thing that you hear so much about, you probably want to know which is the best to join so that you can make all kinds of money quickly!
The only thing wrong with that statement is the idea that money can be made quickly with affiliate marketing.  Sure, it's possible that you can get lucky and become affiliated with a high demand product that creates high commissions, but overall, affiliate marketing is not a get-rich-quick type of business.
Affiliate marketing can absolutely provide you a sustainable income stream for a long time, but it will take work, hard work.
There are thousands of affiliate marketing programs available, let me show you what I think are a few of the better ones to look at.
1. Wealthy Affiliate – This is my personal favorite and is probably one of the fastest growing programs.  They have a proven process that gets you immediately and easily into your own website.  You get all the training you need to have your own money-making website.
Check out their Black Friday Special here!
It was created in 2005 to help people succeed with an online business and they currently have over 800,000 online entrepreneurs under their tutelage.
You can simply refer others to Wealthy Affiliate and earn about a $100 commission per premium signup.  They will show you how to do just that or how to turn your passion into profit.
2. Clickbank – Founded in 1998, it is one of the oldest affiliate marketing networks.  They work with vendors or affiliate marketers, showing each how to make money online.
They have over 21,000 products an affiliate marketer can promote and generate over 200 million dollars in annual sales.  The products are mostly digital.
Whatever your niche turns out to be, you'll probably be able to find several products in that niche to earn commissions from.  What's great about Clickbank is that the commissions are usually quite generous, up to 70%, so good money can be earned.
3. ShareASale Network – One of the earliest affiliate marketing platforms, as they've been around since 2000. They have over 2500 merchants offering their products through the network, with roughly ¼ of those, exclusively sold through ShareASale.
They offer the affiliate the ability to link prospects directly to a registration page of a merchant, ensuring proper referral commission.
4. CJ Affiliate (Commission Junction) –  Probably the one affiliate marketing network that almost everybody has heard about.  It is one of the oldest and largest affiliate marketing networks around and is part of the Fortune 500 company Alliance Data Systems.
There are more big companies like Godaddy, EHarmoney, and GoPro, that run affiliate marketing programs through CJ, than other platforms.
It's not great for newer websites with little traffic, because if you don't produce an affiliate sale within about 6 months, they will deactivate you.
5. ClickFunnels – Not to be confused with Clickbank, it is a tool that helps you create sales funnels, like landing pages, sales pages, and payment pages for products you are affiliated with, without needing coding skills.
It is a business management platform designed for affiliate marketers, because it combines sales, email marketing, web hosting and affiliate marketing, into one account for you to manage.
It's fairly new to the affiliate marketing industry, as it was developed in 2014, but growth is phenomenal, as there already over 100,000 active users.  For their affiliates, they offer a generous 40% commission on sales received.
6. Fiverr Affiliate Program – They are said to be the largest marketplace for digital services.  They have over 3 million digital services available, with 250 unique categories, so it shouldn't be too hard to find a product to promote from their marketplace.
Commissions are excellent, with the possibility of $150 per sale.  However, they do have a "first-time buyer" stipulation on commissions, which can limit earnings.  Also, affiliates have to request payments of earned commissions, it's not automatic.
It has the potential to be a lucrative affiliate marketing program to work with.
7. Transferwise Affiliate Program – The best thing about this program is that there is no limit on how long a customer conversion may take.  Most programs have a cookie period limit, but Transferwise does not. 
If a customer is first introduced to Transferwise by your link, you will get a commission from their sale, no matter how long ago you linked them up.  That's a tremendous benefit when talking affiliate marketing.
As an affiliate, you can help people send, spend or receive money anywhere, at low fees and mid-market exchange rates. It's great for businesses working internationally, covering 80 countries and currencies.
8. Shopify Affiliate Program – Shopify is an eCommerce platform and the affiliate program allows you to refer your audience to setup with them, and thereby earn commissions for those that do. 
Commissions are generous. You can earn an average of $58 for each signup on a paid plan using your referral link, or even $2000 for a Plus customer referral signup.
9. Kinsta Affiliate Program – You can get up to $500 for each referral, +10% monthly recurring lifetime commissions.  One of the best hosting affiliate deals available.
This can be a highly lucrative program because of the recurring lifetime commissions, since they boast that customers rarely leave them.
10. Thrive Themes Affiliate Program – Thrive Themes are a suite of WordPress website tools, such as templates and plugins used to create a website that will convert visitors into subscribers.
It pays a generous commission of 35% on each referral sale, as well as recurring commissions as high as 25%.
FINAL THOUGHTS
You have to be aware that there are many scams being sold as affiliate marketing programs.  Those are usually the programs that take large percentages and pay small commissions, in addition to asking for a fee to join.  Be skeptical of those.
You want to look at larger companies that are established and trusted.  They will offer lower commissions, but they will actually pay the commissions earned. The better programs will honestly tell you that it won't be a get rich plan, just a steady form of passive income.
There are many great affiliate marketing programs out there.  I consider my above list to be a head start to help you find a good affiliate marketing program to work with.