Have you finally heard about the popular MLM skin care company Neora?  Are you looking for the chance to fight aging and help others do the same?
I'm going to give you the straight facts that will help you decide if Neora will be the perfect business opportunity for you.
What is Neora
Neora, formerly known as Nerium International, is a MLM company in the skin care and personal wellness industry.  It was founded in 2011 by Jeff Olson.
He started the company based on only one product, Age-Defying Night Cream.  He felt the best way to market the product was through multi-level-marketing, because it gives one the opportunity to work when you want, where you want, and for however long you want to work.
While that's true about MLM, it's a simplified statement that makes it look like a great way to work for yourself.
After alarming success with the night cream ($100 million in sales by the end of 2012), he created his second product, Age-Defying Day Cream in 2013.
By 2015, they were steadily adding multiple products each year, as well as becoming a truly global company with expansion into many countries.
I find it a bit alarming that they have had their BBB rating revoked and are no longer rated by the BBB.  According to the BBB it was due to Neora engaging in activities that reflect poorly on the BBB or its accredited businesses.
As recent as November of 2019, Nerium was sued by the FTC for operating as a pyramid scheme.
What are Neora products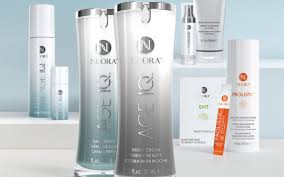 Their product line includes skincare, wellness and hair care products that fight the aging process with natural and science-based ingredients.
The more popular products include:
Age IQ Night Cream – $120 – A next generation, advanced age fighting product to revitalize and regulate your skin, resulting in younger looking skin
Age IQ Day Cream – $100 – Age fighting cream for daytime use, that is a complement to the night cream
ProLuxe Rebalancing Shampoo – $43 – Protein-rich, deep cleansing shampoo for growing healthy, beautiful hair
ProLuxe Rebalancing Conditioner – $43 – Professional grade daily conditioner to restore your hair's smooth, soft and radiant appearance
EHT Brain Formula – $80 – To enhance memory and cognitive functions, while metabolizing carbohydrates, fats and proteins
Youth Factor Complete Vitality Complex – $60 – A holistic daily supplement containing antioxidants and other patent-pending enzyme blends
A major complaint about their products was their NAE-8 ingredient, an extract of the Nerium oleander plant (where the original company name came from).
Nerium oleander is actually a poisonous plant that can lead to allergic reactions that may kill a child or pet.  Who wants that on their skin?
Because of that negativity, starting in 2019, the products no longer contain Nerium oleander. 
That change in ingredients definitely helped them become more science-based in their product development, probably helping to revitalize their image and help in the continued company growth.
What is the cost to join
The minimum cost to join is $49.95.  You are encouraged to purchase a membership package that will include products and marketing material.  Those packs are:
Starter Pack – $500
Builder Pack – $750
Premium Builder Pack – $1000
As you would imagine, the difference in price reflects the number of products you receive, based on wholesale discount with additional volume.
What is the compensation plan
The Neora compensation plan is as clear as any other MLM program, which means it is a bit complex.  You can check out the complete plan here, but I will give my best summary now.
There are actually eighteen membership levels that offer increasing compensation, and the bottom six are:
Active Brand Partner – This is the beginning level and to maintain an active status (able to earn commission) you must achieve 120 PV(personal volume) a month or have 80 PV in personal autoship
Brand Partner Plus – In addition to the above requirement, must have at least one Active Brand Partner under you
Senior Brand Partner – Must maintain Active Brand Partner requirements, plus achieve 150 LQV (Leadership Qualifying Volume) and 500 GV (group volume) per month, with at least two Active Brand Partners under you
Elite Brand Partner – Must achieve 180 PV a month or 80 PV personal autoship, generate 250 LQV per month, generate 1200 GV a month and have at least three Active Brand Partner recruits
Premier Brand Partner – Must maintain 240 PV a month or 80 PV in personal autoship and generate 500 LQV per month, generate 2000 GV a month and maintain at least 3 Active Brand Partners recruited
Director –  Must generate and maintain 340 PV per month or 80 PV personal autoship, generate 750 LQV and 3500 GV per month and maintain at least three Active Brand Partners
There are 12 more levels of compensation available that are explained in their compensation plan, which I will not get into here.  There are bonuses available within most of the upper levels, as well as bonuses based on personal retail sales.  It seems there are bonuses on bonuses, (just kidding) but there appears to be several different avenues where money can be earned.
What is the earning potential
If you look at Neora's compensation plan, you would think there is great earning potential, with all the possible bonus payments, which I think is why the company experienced such rapid growth.  However, at this point, I'm not sure those upper levels are possible without extreme effort.
If you take a look at their current income disclosure statement, from February 2019 – January 2020, 69.4% of the Active Brand Partners, did not make any commissions.  The average annual gross cash earnings was $1054.  I'm not impressed with earning $1054 for an entire year, especially when that doesn't include any expenses incurred.
I hope I've given you enough information to make an informed decision about joining this company.  It is a legitimate company that offers a legitimate business opportunity to make money for anybody who wants to get involved.  However, as I look at it, I cannot recommend this opportunity to anybody.
Neora is your typical MLM company that is basically a job that allows you to create your own hours.  You will be given the opportunity to have a business within a business.  You will be limited to the products (hopefully they're good), you won't be able to change suppliers if you want, nor will you be able to adjust prices to become more competitive.
Neora has faced the same legal problems that most MLM's have faced, and for the moment have come through, but are also plagued with many unanswered customer complaints.  Plus the fact they felt the need to change their name to continue the business, has me worried.
If you're thinking about joining because you like the products, that's good because if you have a passion for the products, it will make it easier to sell.  With over 40,000 US Active Brand Partners, I think developing your own piece of the market will be difficult.
It's expensive to start and remain active, the products are expensive and it will be difficult to build a personal and reliable customer base.  There are better and easier alternatives for making extra money.
A BETTER OPPORTUNITY
There IS a way to make extra money that is less intense and less bothersome to your friends and family.  I can show you how to have a money-making website like this and be able to quit your day job.  It's free to join and no credit card is needed. You'll get a website, training and 24/7 support to ensure success!  Check out "HOW TO QUIT MY DAY JOB" for the details.