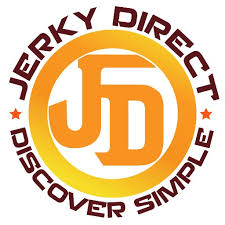 First of all, I decided to review this company because I wondered myself how you can make selling jerky a MLM business opportunity.
With the many MLM companies to choose from, I'm thinking this is unique enough to take a closer look at. It's always smart to do your own research before signing up with any company.
I have no connection with Jerky Direct. I just want to give you my unbiased opinion of the company, after my own research. 
With the straight facts, I'm going to help you determine if Jerky Direct can be the right business opportunity for you or anybody else.
What is Jerky Direct
Jerky Direct is a MLM company in the food industry.  It was founded in 2016 by Daniel Jay.
They have a BBB rating of A+, but are not accredited by the BBB. This can be considered good or bad, in the sense that there have been no reviews or complaints received by the BBB.
Despite being on a couple of different lists for good MLM's to join in 2021, there isn't much information available on the opportunity.
One big red flag that can be found about Jerky Direct is that it is actually a relaunch of a failed business.
The MLM actually closed in June of 2016, but a group of distributors, led by Daniel Jay, stayed together and relaunched it by the end of 2016.
What are Jerky Direct products
Hmm, you should be able to figure out that they sell beef jerky products.  Their products are high quality, developed with fresh ingredients by their own Master Jerky Maker, as they say.
They have 2 different styles of jerky, packaged as, two 2.5-ounce bags, that sell for $21.75.  They have a thicker or thinner cut style.
The Midwest Fresh thick cut flavors are:
Original
Peppered
BBQ
Smokin Hot
Southern Style
The Southern thin cut flavors:
Original
Mesquite
Teriyaki
Smoked
Srirachi
Hot Chile Lime
The funny thing about the Jerky Direct jerky, is that it's hard to find any information on what actual consumers think of the product.  So you can't really be sure if it's good or not.
You can say that it's expensive though!  Even if it's the most delicious jerky ever, $21.75 for 5 ounces of beef jerky is more than I would want to pay!
What is the Cost to Join
They have a membership fee of $15.95 and you must also purchase 1 package of product at $21.75.
What is the Compensation Plan
Here's where this company is just a bit different than most MLM companies.  The compensation plan is actually simple and easy to understand.
You earn commissions from your sales and your recruitment's sales.  Payout is given 7 levels deep. They divide it into: Direct Commissions, Recruitment Commissions and Residual Commissions.
Payout as follows:
Direct Commissions – Money paid based on your personal sales.  It will be $5 on each package you sell, no matter the package size, retail or affiliate.
Recruitment Commissions – You will get $5 per product pack that your personal recruit purchases.
Residual Commissions – Money paid on sales that people you recruited made.  You may earn up to a 40% commission with your first level recruit sales. 
You will earn a 5% commission on your level two and level three recruits.  If you have level four recruits, your commission bumps to 20% on their sales.  With level five and level six recruits, it's back down to 5%, but level seven bumps back up to 20%.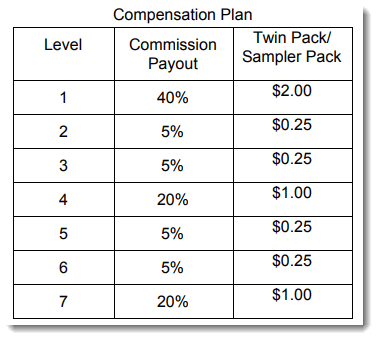 It is a bit mixed up, but not as confusing as many MLM companies
It is a unilevel structure that pays seven levels deep.  Basically, each product pack sold generates a $5 commission that is split up between all 7 levels of a particular team.
There are a couple of notable payout oddities that need to be pointed out:
They offer the opportunity of a replicated website to sell their products, but the commissions earned from online sales is lower.  It actually works out to less than 50% of the commission you would make with a face-to-face sale. Sure you can reach more people, but for substantially less commission.
However, usually the main income potential with MLMs is in recruiting people.  The bigger the team you can build, means more people selling products to benefit you.
When you sell to a customer, you make $5, but if they become an affiliate, you will only make $2 from a sale to them.  Now ideally if they join and build a big team, it's fine, but if they join, but don't work to build a team, when they purchase from you, you'll actually be making $3 less than selling to just a retail customer.  This is one MLM where you could actually make more by simply selling to them, rather than recruiting them.
You can study their detailed compensation plan here.
What is the Earning Potential
I'm not quite sure if there's great earning potential here, in my eyes.  Obviously people are making money with this, but with making only $5 max on any sale, it will take an awful lot of sales to generate what I would consider acceptable income.
PROs & CONs
Pros:
Inexpensive to start
Simple product that is USDA certified
Cons:
Expensive product
Has questionable history, had to be relaunched
Contact available only through Facebook page
No income disclosure statement available
Final Thoughts
At least it's not a scam.  Jerky Direct is a legitimate business, with a legitimate opportunity to make money for anybody who wants to get involved.  However, I cannot recommend this opportunity to anybody.
My first concern is getting involved with a company that was relaunched from a failed business.
I am also wary of a MLM that won't provide an income disclosure statement.  Though we already know most people don't make money with MLMs, it's slightly more reassuring to work with a company that will readily admit that it will be hard to make money.  By not admitting anything, I think that's a good sign you won't make money.
Lastly, I always take issue with MLMs that have very expensive products.  It's very difficult to sell ANYTHING that is more expensive than the average product in a particular industry.  If you've tried and like the products, maybe you can make it work.
I hope I've given you enough information to make an informed decision about joining this company.  It is a legitimate company that offers a legitimate business opportunity to make money for anybody who wants to get involved.  However, as I look at it, I cannot recommend this opportunity to anybody.
The products are expensive and it will be difficult to build a personal and reliable customer base.  There are better and easier alternatives for making extra money.
A BETTER OPPORTUNITY
There IS a way to make extra money that is less intense and less bothersome to your friends and family.  I can show you how to have a money-making website like this and be able to quit your day job.  It's free to join and no credit card is needed. You'll get a website, training and 24/7 support to ensure success!  Check out "HOW TO QUIT MY DAY JOB" for the details.