Thanks for looking at my review of the LifeBrook opportunity.  I'm sure you want to know if you can make legit money with LifeBrook.  Afterall, it is being touted as one of the better MLM companies to join in 2021.
There are so many MLM companies to choose from, so you are smart to do a little research before joining one.
With the straight facts, I'm going to help you determine if LifeBrook is the right business opportunity for you. 
What is LifeBrook
LifeBrook is an MLM company in the health and wellness industry.  It was founded in 2005 by Tony and Jennifer Heisterkamp.
They originally started the company under the name of Eden Valley Orchard & Apple Farm, where they grew organic aronia berries and apples.
As the popularity of the aronia berry increased, they decided to market it through a MLM business model, and thus LifeBrook was created in 2015.
They are not rated or accredited by the BBB.
If you join, you are called an advocate. 
What are LifeBrook products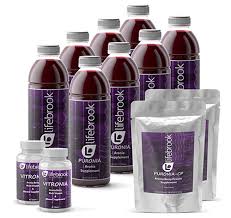 The aronia berry is the primary ingredient in all their products.  It is their belief and findings that the aronia berry is a super-fruit, with high levels of antioxidants, that has all kinds of health benefits.
LifeBrook claims to have scientific study proof that the benefits of the aronia berry include:
Increased overall energy
Improved eye health
Increased immunity to colds and flus
Improved brain health (clarity of thought)
Increased overall heart, blood, and circulatory health
Improved joint health
Improved digestive system function
Increased sleep function
The actual product offerings:
PURONIA – This is the pure aronia berry juice, though it also includes filtered water, lemon juice concentrate and Natamycin.  It comes in 24.5oz bottles, sold in packs of 4, 8 or 12 bottles.  The 4-pack retails for $80 and will cost an advocate $64.
VITRONIA DAILY – This is a multivitamin with a difference. A supplement that will restore your body's key nutrients. One bottle of 60 tablets retails for $40 and will cost an advocate $32.
HYDRAZORB ARONIA MUSCLE & JOINT RUB – Contains essential oils and the power of the aronia berry for sore muscle & joint relief.  It retails for $50 and costs an advocate $40.
ARONIA BERRY SOAP – All natural and handcut aronia berry soap, infused with the aronia berry, sold in 6-packs. It retails for $40 and costs an advocate $40.
What is the Cost to Join
It cost $49.95/year to become an advocate. That includes the following:
Training
Marketing tools
Personal mentorship
Personal website
Online back office
There are 3 additional package options that include product:
Silver – $120 plus 1 selection of each product
Bronze – $220 plus 2 selections of each product
Gold – $320 plus 3 selections of each product
What is the Compensation Plan
Basically, there are 6 ways to earn money with LifeBrook.  However, it does begin with becoming "commission qualified."
As with most MLMs, you are required to sell (purchase) a certain amount of product each month.  LifeBrook is no different, and for them, that amount is 105PV (personal volume) per month.
A quick breakdown of the 6 ways to earn:
Retail Commission – You will get 20% commission from your personal retail sales.
Commission from Preferred Customer Purchases – Preferred customers are people you have signed up for automatic monthly purchases.  This will allow them to receive a 20% discount and you will receive a 20% bonus based on the products bonus volume (BV)
Fast Start Pack Bonus – A 25% bonus you receive when your sponsored advocate purchases a starter package.
Advocate Team Bonus – A 10% bonus based on the personal retail sales of your downline, up to 5 levels.
Preferred Customer Level Bonus – A 5% bonus based on the sales made by your downline to preferred customers.  This also goes to 5 levels.
Executive Bonus – There are several different ranks and requirements involved at this point, too much detail to deal with here. I suggest you review the compensation package here, for complete details if interested.
What is the Earning Potential
I can't really say what the earning potential is because I couldn't find an income disclosure statement for LifeBrook.  Being unwilling to disclose income information is a red flag to me for a MLM company. 
I'm sure there must be people making money, or they wouldn't still be in business.  The commission rates seem more than fair, so if you can develop a good customer base and strong downline team, you can probably make decent money.
Most people fail with MLM, and the earning potential will depend on how hard you're willing to work.  It's a fairly new company, with a fairly new product concept so hopefully it's a ground floor opportunity.

PROs & CONs
Pros:
New company
Somewhat new product
Above average commissions paid
Inexpensive to join
Cons:
Not recognized by the BBB
No income disclosure statement available
Product effectiveness not really proven
Only 4 products to sell
Product cost seems expensive
Final Thoughts
I can definitely say it's not a scam. LifeBrook is a legitimate business, with a legitimate business opportunity for anybody who wants to get involved.  However, I cannot recommend this opportunity to anybody.
As with most MLMs, you have a job that allows you to create your own hours.  Unfortunately, with this one, you'll be working awfully hard to sell 4 expensive, non-proven, products.
Selling products through direct sales can be lucrative if you're friendly, like talking to people, or have a large network of friends and family.  However, if like this company, the products are expensive and limited, it will be difficult. Also, when the product is unproven, you might make the first sale, and if it does not do as promised, you won't have the necessary repeat sales. 
If you're thinking about joining because you like the products, that's good because if you have a passion for the products, it will make it easier to sell. 
I hope I have given you enough information to make an informed decision about joining this company.
There are better and easier alternatives for making extra money.
A BETTER OPPORTUNITY
There IS a way to make extra money that is less intense and less bothersome to your friends and family.  I can show you how to have a money-making website like this and be able to quit your day job.  It's free to join and no credit card is needed. You'll get a website, training and 24/7 support to ensure success!  Check out "HOW TO QUIT MY DAY JOB" for the details.