Can you make good money selling lipstick? I know you're looking to make extra money and I'm going to give you the straight facts so you can decide if Senegence is the right vehicle for you.
What is SeneGence
SeneGence is a MLM company that sells skin care and cosmetic products through its distributors.
The company has been in business since 1999 and was founded by Joni Rogers-Kante.
The company does have an A+ BBB rating, but is not accredited by the BBB.  There have been several complaints about the products and poor customer service.  They have been accused of misleading their distributors, as well as encouraging the distributors to make deceptive advertising claims.
Despite the complaints, SeneGence does have over 500,000 distributors worldwide.
What are SeneGence's Most Popular Products
Lipsense – The most popular product. A liquid lip color that is waterproof and doesn't smear, nor does it dry out on your lips.
LipVolumizer – Plumps lips from the inside out, up to 20%, for fuller, more noticeable lips
Ooops! Remover – Used to gently remove or change color of Lipsense
Climate Control – Anti-aging moisturizer for sensitive and dry skin
SeneSerum-C – Used day or night, under moisturizer to increase luminosity and enhance smooth skin appearance. Helps to protect and firm skin.
What is the Opportunity
The SeneGence opportunity is to become an independent distributor with them, and enjoy access to fantastic skin care and cosmetic products, while building your own business to reach your financial goals.
You can sell the products yourself and also recruit others to do the same and you will also earn a commission on what they sell. It is just like most MLM companies, only the products are different.
What is the Compensation Plan
There is a 14 minute video, click here, that will outline the plan for you.  It is a bit complicated and a distributor has to spend at least $200 per month to qualify for commissions.
Your commission will range from 20% – 50%, depending on sales volume. There are earnable, downline commissions, up to 5 levels, which can add up nicely. Your downline commission can look like this: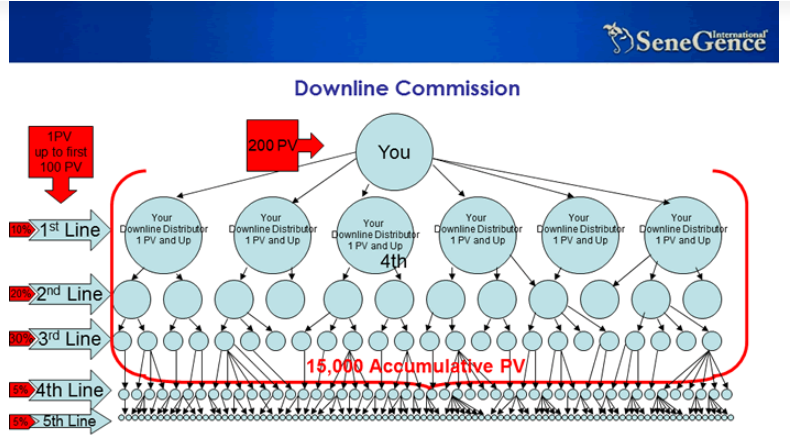 What is the Cost to Join
There is a $65 application fee, plus different level distributor packs to choose from, starting at $75.  There is also an upsell $550 SeneGence training package available.  You can end up spending $1180 to join, if you want to fully immerse yourself with complete training and maximum products.
Can you Make Money
With over 500,000 distributors, and considering the length of time they've been in business, some people have to be making money.
The products are expensive, so if you can make enough sales to earn the 50% commission, you can make money.  If you can recruit a lot of people, you can make money.
The distributors that make money with SeneGence are, as in any MLM, the ones that can maintain personal sales and also grow a strong number of recruits.  With their compensation plan, you won't be successful if you just focus on personal sales, or just on recruitment, you have to work on both to produce a good income.
PROS & CONS
Pros:
Good quality products
Generous commissions possible
Established company
Cons:
Expensive products
Poor customer support
Monthly purchase required
Many customer/distributor complaints filed
Is SeneGence a Scam
SeneGence is not a scam, but it's definitely on the edge of being a pyramid scheme, as very few distributors actually make money with this company. 
There are a few complaints about the products, due to allergic reactions basically, but for the most part, the products are highly praised.  Unfortunately, they are also highly expensive.
Final Thoughts
It's hard to make money in any MLM company. If you genuinely like the products, you will have an easier time selling to friends and family.  The problem is having a large enough network of friends and family, who won't get tired of you talking about the product!
I can recommend another way to make extra money, without having to annoy your friends and family.  I can show you how to have a money making website like this and be able to quit your day job.  It's free to join and no credit card is needed. Check out "HOW TO QUIT MY DAY JOB." You'll get a website, training and 24/7 support to ensure success!