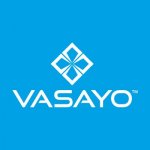 I'm sure you found this review because you're looking to make extra money with a MLM company.  With the huge number of companies to choose from, it's wise to do some research before joining one.  I'm going to help you determine if VASAYO is the right choice for you.
What is VASAYO
Vasayo is a fairly new MLM company that sells dietary and nutritional  supplements.  It was founded by husband and wife, Dallin Larsen and Karree Larsen, in 2016.
Their products are sold under the sub-brand MicroLife Nutritionals and are different than other supplements because of their Advanced Delivery Technology (ADT), allowing the nutrients to have superior absorption properties.
The business has a BBB rating of B+, but is not accredited by the BBB.  There have been at least 6 BBB complaints filed against Vasayo. You can check that out here.
What are VASAYO's Most Popular Products
V-Tox – a herb and fulvic acid blend daily detox supplement
Eternal – a blend of polyphenols and antioxidants that reduce the signs of aging
CBD One – helps to maintain an overall healthy body
V-Slim – weight management, reduces cravings, boosts metabolism, maintains healthy blood sugar levels and more
What is the Opportunity
This is a direct sales company that uses distributors to sell their products online and offline. 
You join as a brand partner and sell products and earn commission based on your sales and the sales of people you have recruited.
What is the Cost to Join
The basic package is $239, which includes products and a company branded website.  There are 3 other levels that cost $329, $499 and $899, which basically vary in the amount of product that is included. That top package does include a trip to the company convention.  There is also a 5th Founders Package that is a whopping $1495, that includes access to 1% bonus pool!
What is the Compensation Plan
The compensation plan is a binary type plan with 18 different ranks.  You have to maintain an active affiliate on each branch, plus one customer to remain active.
Your retail commission can be up to 20%, while you can get 10-20% bonus commission for introduction of new recruits.  Your residual commission will cap at $27,500/week, congrats to you if you're able to cap. For every $240GV accumulated on both sides, you get $25.
In addition, there are matching bonuses, rank and leadership bonuses.
PROs & CONs
Pros
Products backed by science
No side effects
Offer lifestyle bonus trips
Fast Growing health and wellness company
Cons
Expensive startup costs
Expensive products
Income potential limited in comparison to other MLMs
Several Customer service/support complaints
Final Thoughts
I can say VASAYO is absolutely not a scam.  You will be able to make money with Vasayo if you can get with a good team, have complete product knowledge to justify the expense, contact a lot of people, and build your own good team.  Because of the high startup cost and BBB complaints, I would look at other opportunities.
While selling products through direct sales can be lucrative if you're friendly and enjoy talking to people, it is also difficult if you don't have a large network of friends and family.
There is a way to make extra money that is less intense and probably won't have you losing friends.  I can show you how to have a money making website like this and be able to quit your day job.  It's free to join and no credit card is needed. Check out "HOW TO QUIT MY DAY JOB." You'll get a website, training and 24/7 support to ensure success!