So you decided to start a blog for profit.  Great idea…what's next?
Probably what bogs down most people is trying to figure out what the blog should be about.  As I've stated before, a blog can be about anything.  It shouldn't be that hard of a decision in reality. What makes the decision difficult is that if you try blogging about something not too many people are interested in, it would be hard to consider the blog successful.
If you start by thinking about why someone would what to read your blog, about whatever, you have to think that they're looking to answer a question, solve a problem, or improve their knowledge on a subject.  Everybody knows you can learn about anything on the internet.
That explains the increase in popularity of niche blogs.  People are willing to keep coming back to a blog that keeps them informed and entertained.  Just by definition, a niche blog shapes your target audience, and that's what develops the following you want.
How Do You Find Your Niche?
If you pick something you like and have a passion for, you'll make it fun for you and your reader.
According to true blogging experts, passion is what makes a good blog stand out.  As a blogger, you will probably put more time and effort into your blog if you truly like what you're talking about.  Your ideas will flow more freely and more often and you'll keep it going for a longer period of time because it's something you love to talk about.  Your  avid followers are going to trust what you say because they will feel that passion from you.
Not that you can't do it, but if you choose a particular niche because it seems profitable, it will probably be an uphill climb for you.  Think about this, if you're reading this article now, you're probably looking to change your job.  You're at your particular job because it pays your bills.  Doing something purely for the money is usually not satisfying enough to want to do for a long period of time…get it?
Blogging for profit should be interesting and enjoyable if you want it to work.  Also, readers will be able to tell if you're knowledgeable about a certain subject, and if you're trying to blog about something you don't know, why would they want to read your blog?
Discover Your Passion
There are many "How to find your passion" quizzes out there on the internet.  Let's just say there are a few common questions they tell you to ask yourself to help you determine your passion.  I'm going to give you the common ones here:
What are your favorite topics to discuss?
What could you talk about for hours on end?
What are your talents?
What would you like to do if money wasn't a concern?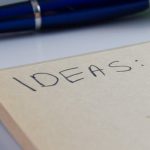 Now hopefully, if you can honestly answer those questions, you should have thought about at least 3 or 4 interests of yours. If so, you should be able to come up with content to form a blog and continue with it.  If not, perhaps blogging is not your way to make money on the internet.
That doesn't mean all is lost.  You can always look into making money by selling a product online.  Fortunately there are different ways to do that as well like, directly promoting a product, or affiliate marketing.
Pick a Spot in the Market
Since everything and anything is already out on the internet, whatever niche you decide to start a blog about, already has many blogs available for the reading. What you have to do is find that one little spot in the niche that has not been overly  examined or discussed.  That's where you going to make your money with a particular niche.
The idea is to narrow your niche, aiming for a specific target audience within the niche.  In a broad example, if you're going to blog about a specific activity, target either the beginners, the intermediate or the advanced participants and solve the problems associated with that particular level of commitment.  Remember, people read blogs for information relevant to their interests. 
Warning though, there has got to be a need in that part of the market for the blog to become successfully followed.
Final Thoughts
Blogging is an ever-growing online activity that many use for making money.  Determining the perfect niche for you is something you want to take time doing. 
Don't rush in and pick something just because you heard it's a money-maker.  If that's the case, there's probably too many blogs about it anyway.  It's okay to take the time to "trash" some ideas, before picking the one that will work for you.
Pick something you already enjoy talking about or working with, because that will keep it interesting for you and your followers.  You'll be able to grow your following because of credibility and thereby make it easy and enjoyable to earn an income from blogging.  As the saying goes, "Do what you love, and you'll never work a day in your life."  (Or something like that!)